Halloween weekend is upon us. If you're looking for a nice way to start off your Saturday night then join us for a Devil's Night party at MATCHLESS in Greenpoint Brooklyn. Prudence Teacup will be performing with her band of hobgoblins.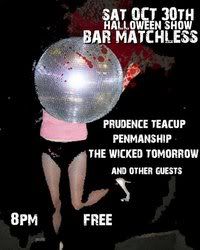 Prudence Teacup - 8:30
Penmanship - 9:30
The Wicked Tomorrow - 10:30
FREE!